Trips
Tips for trips - discover your region
crossXculture 'Tips for trips' will provide you with new impressions of your surroundings and its people. Language and culture are deeply interconnected. The more you identify with a region, the greater is the chance for successful linguistic assimilation with the local language community. What are you waiting for?
Großer Feldberg Mountain
The 'Großer Feldberg' near the town of Oberursel is not only the highest elevation of the Taunus mountain range but also a vantage point for tourists from all over Germany.
Travel 40min / Activity 1-6h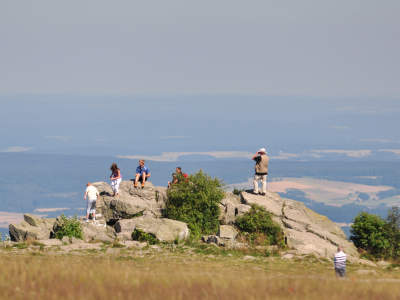 Visitors can expect a stunning view from around 880 meters' height as well as a traditional German restaurant serving a fine assortment of local dishes.
The 'Großer Feldberg' is popular with tourists and local friends of nature. It is frequented by hikers, cyclists, motorcycle clubs, families with children enjoying afternoon walks and owners of convertibles enjoying the fresh mountain air.
Feldberg has much to offer in all seasons. During the warm months, hikers and cyclists use the well-maintained forest paths to reach the summit. This can be done rather ambitiously straight from the town of Oberursel, or more leisurely from one of the parking lots along the route to the mountain's peak.
In the winter months, Feldberg's frosty temperatures keep ice and snow much longer than the surrounding area, thus attracting visitors who take their cross-country skis or toboggans for a playful ride. Following the cold outdoors, the cosy restaurant offers re-vitalizing hot drinks with and without alcohol, such as hot apple wine or hot chocolate.
Since the mountain is covered by a dense forest from foot to peak, it provides fresh air in peaceful natural surroundings. It is part of the greater Hochtaunus health resort. Cooler and moister than the surrounding lowlands, temperature differences of five degrees are common. Just half an hour's drive away, Feldberg provides a soothing contrast to Frankfurt's hot and hectic urban lifestyle.
Address
Großer Feldberg 5
61389 Schmitten/Taunus