About cxc | crossXculture
Online and In-house language courses for your business and for yourself
Language courses online — that provide you with as much presence as ever before. You can now enjoy the well-known quality of our trusted in-house language courses in the comfort of your own home. With competence and lots of personal engagement, our qualified trainers create a secure learning environment for you each day.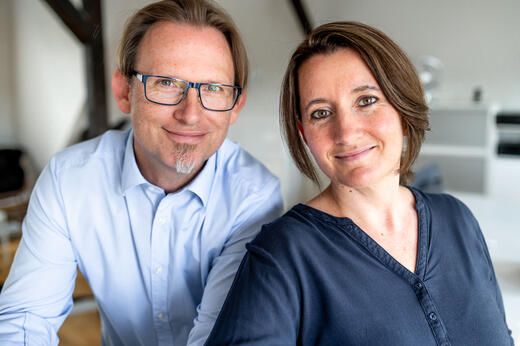 Our quality. Your success
"crossXculture in-house language courses are a sure way to improve staff performance."
Karsten Hein, Owner & Sabina Hein, Customer Service
of cXc | crossXculture
cXc | crossXculture is based in Marne and today teaches classes in more than 50 different locations throughout Germany. Whether you have a strong business focus or more personal reasons for attending lessons, you can be sure that your lessons are always designed to meet your needs.
Through a growing business network of 1000+ professional trainers and coaches, crossXculture is able to offer high-quality lessons in 26 languages.
We are especially proud to have built this strong business community on the basis of our Fair-Share principle, by which we invest two-thirds of our income in sourcing the best trainers in the market for you.
While this implies continued smart budgeting on the administrative side, it has contributed to the formation of long-lasting relationships in the business. Furthermore, it has helped us to give back to the communities that we live and work in.