Trips
Tips for trips - discover your region
crossXculture 'Tips for trips' will provide you with new impressions of your surroundings and its people. Language and culture are deeply interconnected. The more you identify with a region, the greater is the chance for successful linguistic assimilation with the local language community. What are you waiting for?
Open-Air Museum Hessenpark
Hessenpark is a village turned museum, or at least so it seems. Visitors are provided with a first-hand impression of how it felt to live in the historical German state of Hesse.
Travel 40min / Activity 2-6h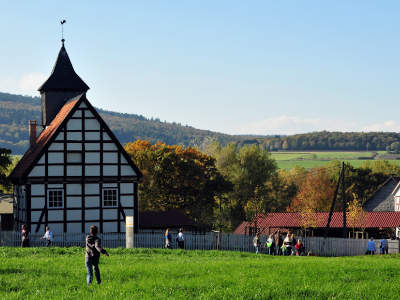 Children and adults are given a glimpse of local history in this detailed reconstruction of a German village. Be sure to experience craftsmanship, food and architecture from long forgotten times as you delve into the historical state of Hesse.
The houses on display have often been subjected to a long journey from the places of their original construction to their new location in Hessenpark. In danger of having to perish forever, their remains were disassembled brick by brick and timber by timber to be transported and given new life in the open-air museum. Next to the marvellously warm and organic architecture and fascinating building techniques of the time, visitors will experience traditional crafts such as basket-weaving, flax spinning and the breeding of historical livestock.
This open-air museum offers a special glimpse at German architecture, as the buildings on display have been reconstructed to resemble their original design and purpose, using the exact techniques in their re-construction that were used by the original carpenters.
Often there are re-enactments of historical events with people wearing the original clothes of the time. Hessenpark's restaurants, food shops and bakeries will make your stay ever more enjoyable by offering authentic local foods. Your visit supports this important endeavour, as there are many more historical houses to be moved and re-constructed.
Address
Freilichtmuseum Hessenpark
Laubweg 5
61267 Neu-Anspach/Taunus
Contact
Email: service(at)hessenpark.de
Tel: 06081/588-0